Martian Projects Shall Use Nuclear Energy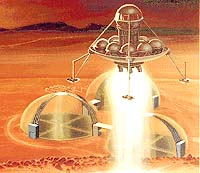 File image.
by Staff Writers

Moscow, Russia (XNA) Oct 28, 2009

The future Mars manned exploration projects will only become true by using nuclear energy, said President and Chief Designer of Russia's Energia Aerospace Corporation Vitaly Lopota here on Monday.

Since current rocket technologies are not sufficient for the future exploration of Mars and the whole Solar system, and since no alternative energy resources have been found as of now, the only possible way to implement those projects would be by using nuclear energy, Lopota said at an academic conference on aerospace.

Lopota also believed that the Mars projects should be prioritized over the Lunar ones, because the technologies applied to the former could be used in the latter, but it would be more difficult to achieve the goal in the reversed order.
Share This Article With Planet Earth
Related Links
Energia Aerospace
Mars News and Information at MarsDaily.com
Lunar Dreams and more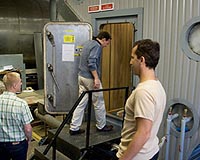 Russia Needs More Volunteers For Mars Flight Simulation
Moscow, Russia (RIA Novosti) Oct 28, 2009

The Russian Institute of Medical and Biological Problems continues to recruit volunteers for participation in a 520-day simulation of an expedition to Mars, the institute said Monday. "The basic requirements for volunteer testers are the following: age 25-50, higher education, knowledge of the Russian and English languages ensuring professional and household communication," the institute ... read more