HiRise Camera Shows Mojave Crater Peak Is High And Dry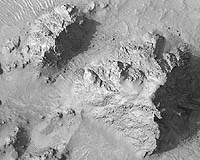 HiRISE image showing a portion of the central uplift structure in Mojave Crater. Image courtesy NASA/JPL/University of Arizona
by Staff Writers

Tuscon AZ (SPX) Jan 25, 2007

The HiRISE camera on NASA's Mars Reconnaissance Orbiter took a huge, detailed image of Mars' Mojave crater on Jan. 7, 2007. Part of that photograph shows the central uplift structure in the crater. Rocks that form this peak were several kilometers beneath the surface until an impact formed the 37 mile-diameter (60 kilometer) crater just north of Mars' equator. The HiRISE image shows that boulders as large as 50 feet across (15 meters) have eroded from the massive uplifted rock and rolled downslope.

The HiRISE image also confirms earlier evidence that this part of Mojave crater appears untouched by liquid water.

Previous photographs taken by the HiRISE camera, and even earlier by the Mars Orbital Camera that flew on NASA'S Mars Global Surveyor, show that Mojave crater rim walls feature striking drainage channels and alluvial fans that likely were formed by surface water runoff.

How runoff formed these channels and alluvial fans is one of the questions that HiRISE team members and their collaborators are looking into.
Community
Email This Article
Comment On This Article
Related Links
HiRise at Arizona
Mars Reconnaissance Orbiter
HiRoc at Arizona
CRISM at APL
Mars News and Information at MarsDaily.com
Mars News and Information at MarsDaily.com
Lunar Dreams and more

A Stellar Moment Frozen In Martian Time

Pasadena (SPX) Jan 24, 2007

An image of sunset on Mars, taken by Spirit, won in a public poll. This contest, and other new multimedia pieces, help mark the twin rovers' third anniversary on the red planet. On May 19th, 2005, NASA's Mars Exploration Rover Spirit captured this stunning view as the Sun sank below the rim of Gusev crater on Mars. This Panoramic Camera (Pancam) mosaic was taken around 6:07 in the evening of the rover's 489th martian day, or sol.